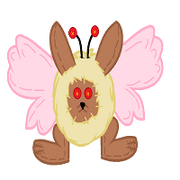 This page is the species, maybe you want the Item? Alive Plush Moth Fuz is a species that can be caught by exploring.
History
A Plush Moth Fuz mysteriously turned alive. All of the humans in the valley feared this strange living toy. But, some days later, the humans didn't fear it anymore, since it's just a normal, harmless Moth Fuz, just with a weird look. After that, half of the plushies on the shop turned alive and waited for someone to find them.
Gender
The Alive Plush Moth Fuz actually does not have a gender trait, possibly because they're just dolls. Though the game wants you to choose a gender for your pet, it is supposed to be genderless.
How to Adopt
This type of Moth Fuz can be found in the "Outside Toy Shop" on the Explore Page.
Ad blocker interference detected!
Wikia is a free-to-use site that makes money from advertising. We have a modified experience for viewers using ad blockers

Wikia is not accessible if you've made further modifications. Remove the custom ad blocker rule(s) and the page will load as expected.