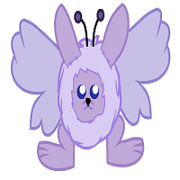 The Purple Moth Fuz is a species that can be caught by exploring. They can be described as a normal Moth Fuz, but... purple.
I got a female pet but it shows a male image! What to do?
Send a message on the site to TwilightTwily about that. Then it should be fixed.
How to adopt one
You can find one on the Explore Page on "The Valley".
Ad blocker interference detected!
Wikia is a free-to-use site that makes money from advertising. We have a modified experience for viewers using ad blockers

Wikia is not accessible if you've made further modifications. Remove the custom ad blocker rule(s) and the page will load as expected.