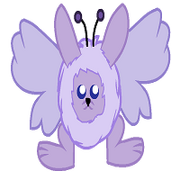 The Purple Moth Fuz is a species that can be caught by exploring. They can be described as a normal Moth Fuz, but... purple.
I got a female pet but it shows a male image! What to do?
Send a message on the site to TwilightTwily about that. Then it should be fixed.
How to adopt one
You can find one on the Explore Page on "The Valley".